W.B. 19.10.2020
Writing
Monday
We will be writing instructions on how to make a healthy pizza. Watch the video to give you an idea of what we need to do for each step. After watching the video, tell your grown up, step by step, how to make a healthy pizza.
https://www.youtube.com/watch?v=zPndy-TrkMM
Tuesday
To write instructions, we have to be bossy! We used bossy words that are called imperative verbs. Watch the video and write a list of all the imperative verbs (bossy words) that you heard. https://www.bbc.co.uk/teach/class-clips-video/how-to-write-clear-instructions/zrvtscw
Wednesday
When writing instructions, we also have to tell people when to do something. We use time connectives to do this. Read my sentences below and highlight the time connectives.
First, wash your hands in warm, soapy water.
Then, gather all of your ingredients together.
Next, spread the juicy tomato sauce over your pitta.
After that, sprinkle the delicious cheese on top.
Then, carefully chop up your healthy vegetables.
Thursday
To make our writing more exciting, we have been using adjectives. Adjectives describe something and help the reader to imagine it in their mind. Look at this picture of a pizza. What adjectives would you use to describe it? Write a list.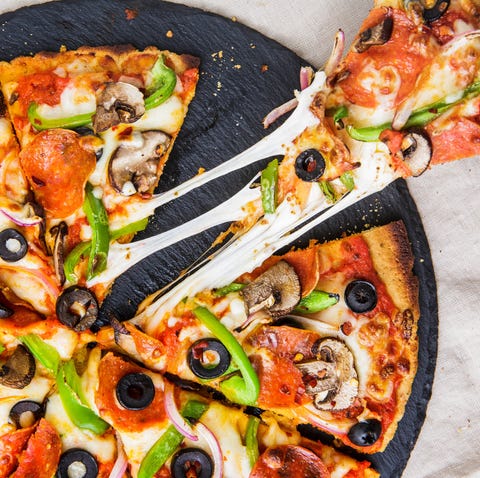 Friday
Independent Write!
It's your turn to use everything we have looked at this week to write instructions on how to make a healthy pizza. Think about how you would describe the pizza, the order of the steps and remember to be bossy! Read the WAGOLL below to help you.
Reading
Monday
Practise your phonics on phonics play
https://www.phonicsplay.co.uk/resources
Tuesday
Read a book on Oxford Owl
Wednesday
Today practise your tricky word reading
https://www.bbc.co.uk/bitesize/topics/zvq9bdm/articles/zr728xs
Thursday
Read a book on Oxford Owl.
Friday
Play a game on Phonics bloom.
Maths
https://whiterosemaths.com/homelearning/year-1/week-6-number-addition-subtraction/
For our maths lesson this week please use the link above
Monday
For today's lesson watch the first video on fact families – addition facts.
Tuesday
For today's lesson watch the video on number bonds within 10.
Wednesday
For today's lesson watch the video on systematic number bonds.
Thursday
For today's lesson watch the video on finding number bonds to 10.
Friday
For today's lesson watch the video on comparing number bonds.
Topic
Monday
RE – https://www.bbc.co.uk/programmes/p064s1k8
Watch the video about Eid that we watched last week and tell your grown up how Muslims feel around Eid. Design and make an invitation to an Eid party. Think about what clothes Muslims wear, what food they will eat and what they do to celebrate Eid.
Tuesday
Science/Geography – We have been looking at autumn for the last few weeks. Write a couple of sentences to describe what autumn is like. You might include what events happen during autumn, what the autumnal weather is like and what happens to the trees and their leaves during autumn.
Wednesday
Black History Month.
October is 'Black History Month' and we are looking at and celebrating Mae Jemison. Our topic next half term is 'Moon Zoom' and Mae Jemison is a very important person who we look at.
Look at the picture of Mae Jemison below. What do you think she is famous for? What clues does the picture give you? Write your answers down in full sentences.
Go through the powerpoint to see if you were correct!
Thursday
Computing – E-Safety.
Watch the video below and answer the questions.
https://www.youtube.com/watch?v=d5kW4pI_VQw
Should the little girl have gone on the computer without asking an adult?

What should the little girl have done when the 'Win a teddy' advert popped up?

Did she do the right thing by letting her grown up know what had happened? Why?
Friday
Music
Practise your singing and your signing by signing along to 'This is Me' from 'The Greatest Showman'. You could even teach your grown up the actions.
https://www.youtube.com/watch?v=59bSI8tplvU