MFL with Mrs Livesey!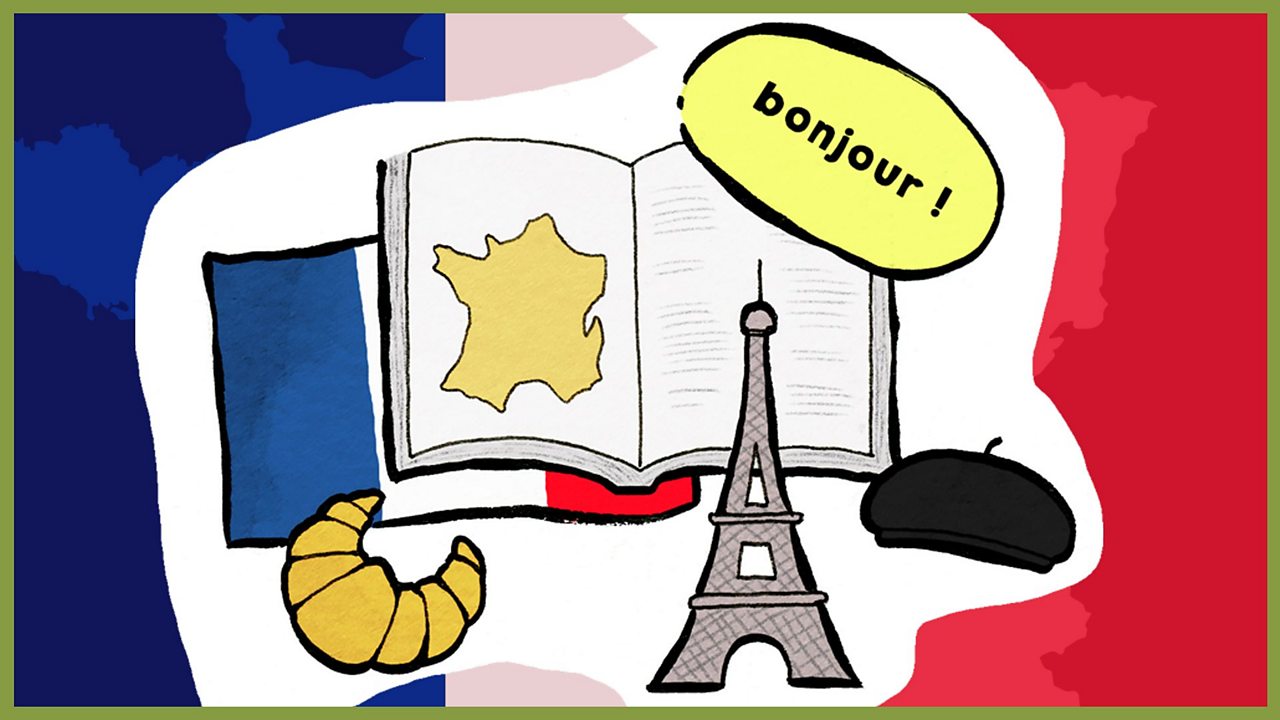 Bonjour everyone! I hope you are all staying safe and well at home.
Some French work will be posted from time to time on your year group pages, but I thought it would be nice to set some little French challenges that you can all have a go at regardless of what year group you are in.
There is now a special MFL email address where you can send any pictures of work/videos you do straight to me: mfl@mostonlane.manchester.sch.uk . I can't wait to see what you're doing at home!
Some of the challenges I set here will involve singing a song, reciting a poem or presenting information. So if you have something you can film yourself on and would like to send me a video, please do! Make sure you get your parents' permission before using any devices and make sure they give consent to email your video. If you would also like to use the challenges to practice your French writing, then please take photographs of your work and send that in too. After every challenge, I'll choose a French Star of the Week and post their name online! If your video is really good and you have permission, I might post that too - exciting!
Pen Pal Opportunity!
As many of you know, some children at Moston Lane have had the opportunity in the past to write to pupils in France to practice their French skills. This week, I have been in touch with Miss Peyral and we had an idea to offer you the chance to exchange emails with her pupils to share your experience of learning at home during lockdown. Children in France are in the exact same situation that you are - schools are closed and they are doing their best to stay at home and protect people. Why not ask them to tell you what it's like for them and explain what it has been like for you?
If you are interested in getting involved in this, please email me at the email address above and I will help get you started. You can write in English, French or a mixture of both, whatever you feel most comfortable doing! I will then pass on your email to your pen pal to ensure that no personal information is shared - we have to remember to stay safe when working online.
I hope to hear from some of you soon and until then, continue to be our stay at home heroes. Mrs Livesey x
Over the last couple of weeks, letters and photographs have started to come in from children in our school and from pupils in France. It has made me so happy to help you exchange these letters via email, and to be able to read about some of the things you have been doing at home. I have been SO impressed at the effort our Moston Lane children have put into writing their letters, both in English and in French, and just had to share a few of them here. Google translate appears to have been a big help and that's absolutely fine - this is more about making a new friend than being fluent in French!

A huge well done to Freddie in Year 5 and his little sister Lucy in Year 1, Caitlin, Wisdom and Alex in Year 4 and Alfie in Year 3 for working so hard on your letters.

Rest assured that if you have not received a reply yet, I will send it to you as soon as I receive it. Please keep your letters coming, and if anyone else is interested in getting involved there is still time because more and more pupils in France want to do it too. If you want a pen pal, we will find you one!
Here is an example of an exchange between Alfie in Year 3 and his French pen pal Lucas:
Salut Lucas,
Je m'appelle Alfie et j'ai 8 ans maintenant, j'ai fêté mon anniversaire mais c'était toujours amusant. J'ai 4 soeurs et 2 frères mais seul mon frère Alex vit avec moi et ma maman - tout le monde est grand. As-tu des freres ou des soeurs? Pendant le verrouillage, je faisais mes devoirs tous les jours, je jouais fortnite, je montais sur mon trampoline, je regardais des films et je jouais à des jeux de société. Nous venons de recevoir un nouveau chaton. Son nom est Rolo et il est méchant. Il m'a griffé sur ma jambe. J'espère que votre famille va bien. Réponds vite!
Au revoir Alfie
Salut Alfie
Hier c'était aussi mon anniversaire , j'ai eu un pistolet nerf ,une combinaison nerf , une arène de toupie , des toupies .
Moi je joue à un jeu vidéo qui s'appelle « the Crew » .
Ton chat est très très beau .
J'ai ouvert ma piscine et je me suis baigné, elle est à 25.6 degrés : très chaud hein .
J' ai 1 frère de 13 ans et mes 2 parents .
Moi aussi je fais des jeux de société comme » 5 secondes ».
J'ai regarde un film moi aussi j'ai regardé « taxi 4 » .
J'espère que toute ta famille va bien.
Bye
À bientôt
Lucas
Here are some photographs of other fantastic letters that children have written: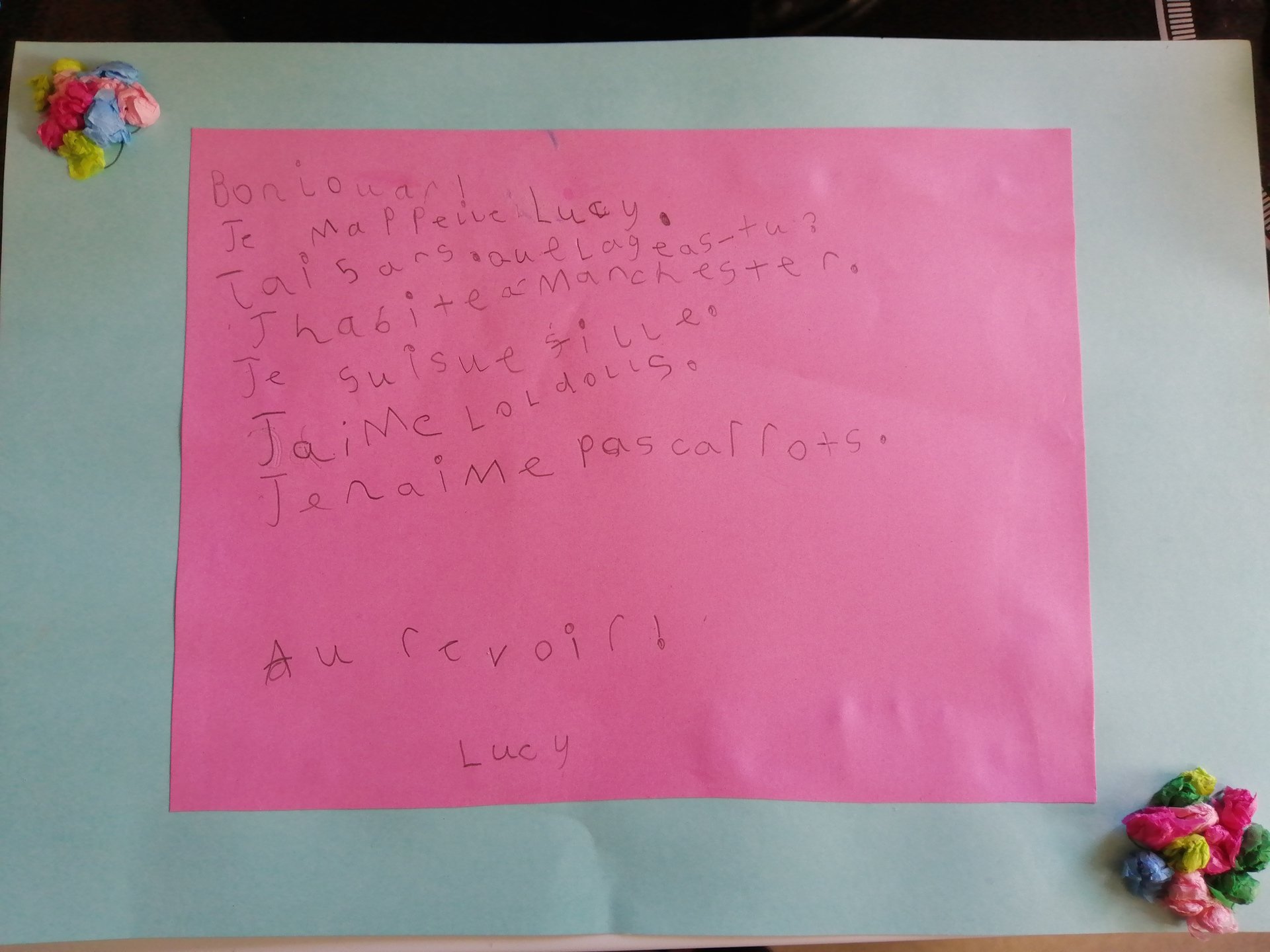 Challenge 6
L'alphabet
Once you've done that, a useful phrase to learn is 'Comment ça s'écrit?' which means 'How do you spell that?' Watch the following video to see some examples of how to spell different words using the French alphabet: https://www.youtube.com/watch?v=C1RdSBfcYxU
Now your challenge - video yourself telling me your name and how you spell it in French. For example 'Bonjour, je m'appelle Ben.
Ça s'écrit B-E-N'.
Bonne chance!