Local MP Visit
Local MP Visit
30 January 2020 (by admin)
We had a visit from our local MP, Lucy Powell, last Friday.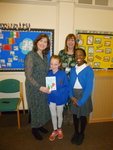 Lots of children from across Greater Manchester entered a Christmas card competition that was run by Lucy to create her official Christmas card. A huge congratulations and well done to Keigha Clarke who won!
On Friday, Lucy came to visit Moston Lane to congratulate Keigha and to meet pupils and staff.
After her visit, Lucy said "Moston Lane Primary School is a fantastic school that is changing the lives of so many young people and is working hard to support their pupils and families."