Girls Football and Handball
Girls Football and Handball
21 October 2019 (by admin)
Our children have been doing a fantastic job of representing the school in a girls football tournament and handball competition.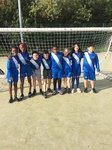 Girls Football:
The Moston Lane girls football team have recently participated in 2 high quality
competitions, with terrific results. Highly impressive performances from all 8 members of the
squad saw Moston Lane finish 3rd place in the 2nd of a 5 week league, an outstanding achievement.
Handball:
On Tuesday 8th October, children from year 6 were competing in a level 2 handball competition at
Parrs Wood High School. A terrific effort by all 8 players involved left Mr Thompson feeling very
proud. This is another fantastic achievement by the children at Moston Lane.