We Were There
We Were There
22 October 2021 (by admin)
Join author Tom Palmer for a free event at Imperial War Museum North on Friday 29th October and Saturday 30th October 2021.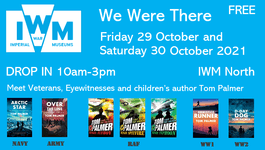 The event is a drop in session between 10am - 3pm.
Tom will be bringing his scrapbooks of photographs and research documents and artefacts to show and answer questions about both his First World War books – "Armistice Runner", "Flyboy" and "Over the Line" – and his Second World War books "D-Day Dog", "Spitfire", "Arctic Star" and "After the War -from Auschwitz to Ambleside".
Follow the link below for more information.