Welcome to Year 2's class page! Here you can find information about our classes, topics and curriculum.
Team: 5
Teacher: Miss Howes
TA: Miss Walker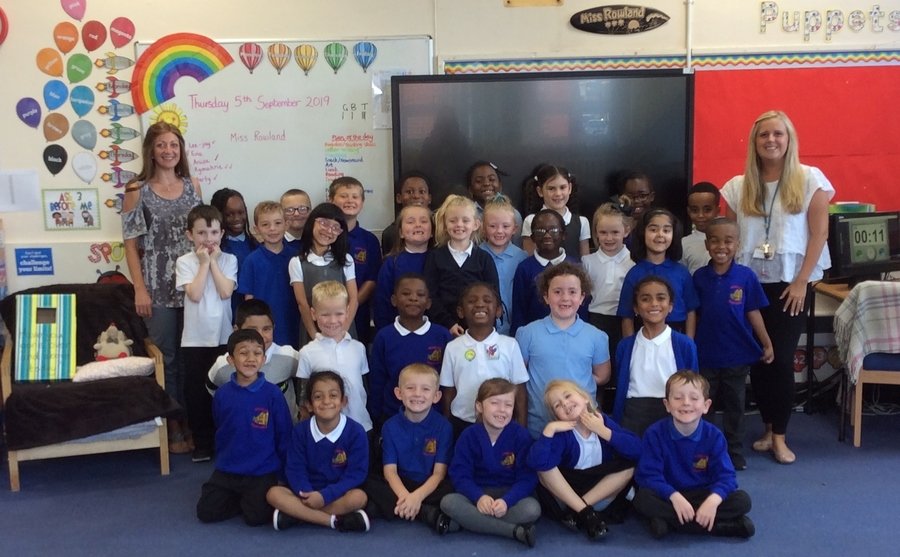 Team: 6
Teacher: Miss Rowland
TA: Miss Stephenson
In Year 2, we offer a broad and balanced curriculum to prepare our children for a life in modern Britain.
If you would like to view the curriculum map for the whole year, or for previous half term topics, click on the links below:
European Day of Languages
In Team 6 for European Day of Languages (Thursday 26th September), we shared different languages we already knew and have experienced from family members and holidays that we have been on. There are lots of different languages in our class that we loved sharing with each other! We learnt how to say 'hello' in different languages and it was so much fun :) We also learnt a song called 'All Aboard'. This was a song that had French, German, Spanish and Italian lyrics.
King Charles Spaniel Visits Year 2
For our first Year 2 topic "Pets" we asked Mrs Hilton to bring in her dog Tilly and to tell us all about looking after her. Tilly was very friendly and wanted us all to play with her. Mrs Hilton answered our questions about looking after her, her favourite toys, food and things Tilly doesn't like and is scared of. We then used this visit to help us with our King Charles Spaniel fact files in Writing too!
Science Offspring Sorting Activity
In Team 6, our Science topic this term is 'Animals Including Humans'. We looked at what different animals and humans need to survive and even used some very scientific words like habitat and oxygen! We looked at animal life cycles and did a matching activity in groups, where we paired adult animals with their offspring.
Dogs Trust
Year 2 had a lovely visit from Mel from Dogs Trust this week. This was a great workshop about what Dogs Trust do at their centers and how they re-home dogs. It was also great to hear about what we should do to take care of dogs and what we should do if we see a dog we want to go near in public areas. We mostly enjoyed looking at real dead fleas and worms in test tubes as well as practicing how to pick up dog poo using plastic bags!
Puppet Making
Last week we designed our own animal puppet linking to our topic this half term 'Pets'. We decided what animal we wanted to make and wrote down how we were going to make them. We then learnt a new skill- sewing! We found it quite tricky but tried our best. We then decorated our hand puppet with lots of materials like googly eyes, pipe cleaners, felt and feathers.
Remembrance Day
Year 2 have been on a trip to St Johns in Moston to look at how the church was decorated for Remembrance Day. The children noticed lots of poppy wreaths and cards displayed around the church and even noticed a Remembrance memorial plaque for all the soldiers from Moston who died in the war. The children learnt about the different coloured poppies and what happens during the playing of the Last Post. Miss Rowland brought her trumpet to church and played the Last Post whilst we pretended we were veterans putting the flag up and down.
Clay Poppies
Back in the classroom, Year 2 have been making clay poppies as part of our Remembrance topic. We looked at the 3D sculpture artist Paul Cummins and his work. We were very impressed with his 'Blood Swept Lands and Seas of Red' sculpture he created around the Tower of London. We rolled out clay and used cutters to help create our poppies. We wanted to make clay poppies just like his!